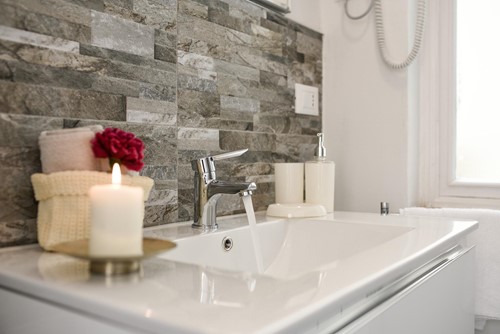 When homeowners think of home improvement, return on investment is usually on their mind. Enhancing your existing home with remodeling projects is even more rewarding when the time and money spent pay off in home value.
However, since most major home improvements can be costly, it's important to know which projects have the highest return on investment. According to real estate experts, some home remodeling projects stand out as the best options for adding home value.
To help you find ideas for your potential home renovations, here are some of the most beneficial upgrades to consider:
Minor bathroom renovations
Bathrooms are a huge source of your home's value, and even adding minor improvements can pay off substantially. For example, simple changes like replacing your shower head and plumbing fixtures make a bathroom seem brand new.
Other recommended bathroom projects include replacing light fixtures, adding storage solutions and installing low-flow toilets.
Landscaping renovations
Never underestimate the power of curb appeal. Upgrading your outdoor space will enhance the entire aesthetic of your home's exterior and please prospective homebuyers. Remove weeds and debris, plant some fresh greenery and add a new garden path to your front door.
If you have a backyard, make sure to give it some attention as well. Improving your outdoor living spaces with additions like patios, pergolas and garden beds can help you enjoy them more while also increasing your home value.
Basement & attic renovations
If your home has an unfinished basement or attic, consider taking the time to remodel it into a usable space. There's no need to make it complicated, either - simple home improvements like installing hardwood floors, drywall and quality light fixtures will add value and potentially double the square footage of your home.
While home improvements can be expensive and time-consuming, many of them bring enormous benefits. Whether you want to refresh your existing space or prepare your home for the real estate market with a full remodeling project, these renovations are some of the best returns on investment to consider.